In order to more vividly tell the interdisciplinary Chinese story of law and linguistics, and to strengthen the influence of our school in the international linguistic field, at the invitation of the 5th annual meeting of the American Pragmatic Society, Mr. Zhu Lei was sent to participate in the event, a three-day international pragmatics conference hosted by the University of South Carolina.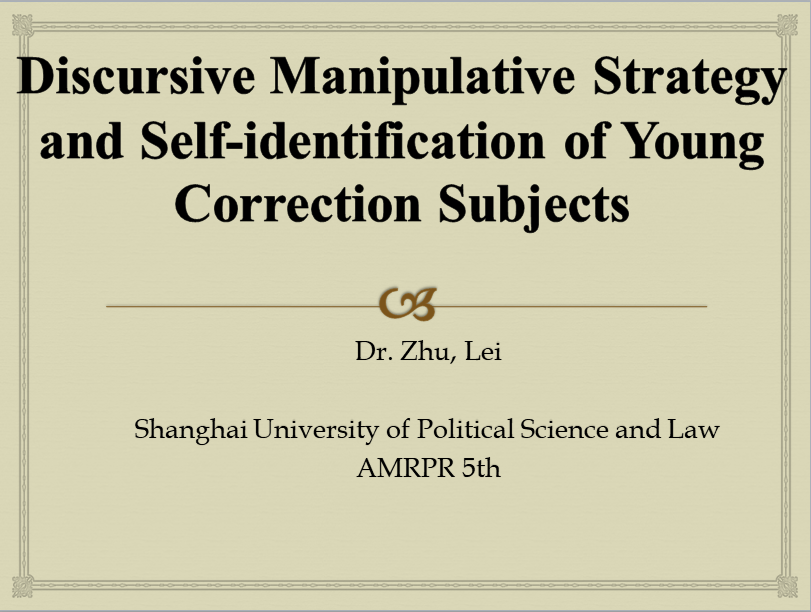 In the panel presentation on the second day of the conference, Dr. Zhu Lei gave a keynote speech entitled Discursive Manipulation Strategy and Self-identification of Young Correction Subjects. The research adopts the framework of pragmatic argument analysis in judicial activities, and studies the discourse strategies of social workers and the feedback of those who are corrected from the perspective of strategic manipulation. The report explores the dynamic identity construction of young offenders, and finds that in terms of topic selection, audience needs and presentation skills, social workers use different discourse resources in different debate steps, which are realized by specific speech acts. Subjects responds accordingly, and deconstructs the undifferentiated collective identity imposed by the social worker, based on the self-mental model. Understanding the discourse expression rules of strategic manipulation means is of great significance to the debate research on the identity construction, deconstruction and negotiation of the corrected person, and even the effective development of community corrections.
Mr. Zhu Lei has strong academic interests in pragmatics, rhetorical debate and discourse analysis. According to the conference announcement, Dr. Zhu Lei submitted the manuscript as required and passed the double-blind peer review. He was honored to be invited to participate in the conference and give a speech. The American Pragmatics Annual Conference is a well-known linguistics event in the world. Many domestic colleges and universities recognize it as the top linguistics conference. The Chinese pragmatics community also attaches great importance to the annual conference. Mr. Zhu Lei made a clear Chinese academic voice through the presentation of the report and the question-and-answer session. The half-hour report was recognized by international linguistics peers. Teachers from the School of Language and Culture (School of International Exchange) participated in this meeting for the first time, which enhanced the influence of our school in the international linguistics field.
School of Language and Culture (School of International Exchange)
November 6, 2022